Are Romeo and Juliet really in love? What did Shakespeare's audience know about Italy? Why are there sonnets in Romeo and Juliet?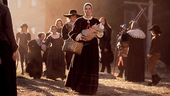 Act 3, scene 5 Summary: Act 3, scene 5 Just before dawn, Romeo prepares to lower himself from Juliet's window to begin his exile. Juliet tries to convince Romeo that the birdcalls they hear are from the nightingale, a night bird, rather than from the lark, a morning bird. Lady Capulet calls to her daughter. Juliet wonders why her mother would come to speak to her so early in the morning. Unaware that her daughter is married to Romeo, Lady Capulet enters the room and mistakes Juliet's tears as continued grief for Tybalt.
After Capulet and Lady Capulet storm away, Juliet asks her nurse how she might escape her predicament. The Nurse advises her to go through with the marriage to Paris—he is a better match, she says, and Romeo is as good as dead anyhow. Though disgusted by her nurse's disloyalty, Juliet pretends to agree, and tells her nurse that she is going to make confession at Friar Lawrence's.
Juliet hurries to the friar, vowing that she will never again trust the Nurse's counsel. Where in the balcony scene Romeo saw Juliet as transforming the night into day, here she is able to transform the day into the night. In a moment reminiscent of the balcony scene, once outside, Romeo bids farewell to Juliet as she stands at her window. Here, the lovers experience visions that blatantly foreshadow the end of the play. This is to be the last moment they spend alive in each other's company.
O God, I have an ill-divining soul! In the confrontation with her parents after Romeo's departure, Juliet shows her full maturity. She dominates the conversation with her mother, who cannot keep up with Juliet's intelligence and therefore has no idea that Juliet is proclaiming her love for Romeo under the guise of saying just the opposite. Her decision to break from the counsel of her disloyal nurse—and in fact to exclude her nurse from any part in her future actions—is another step in her development. QUIZ: Which Type of Person Are You in Group Projects?